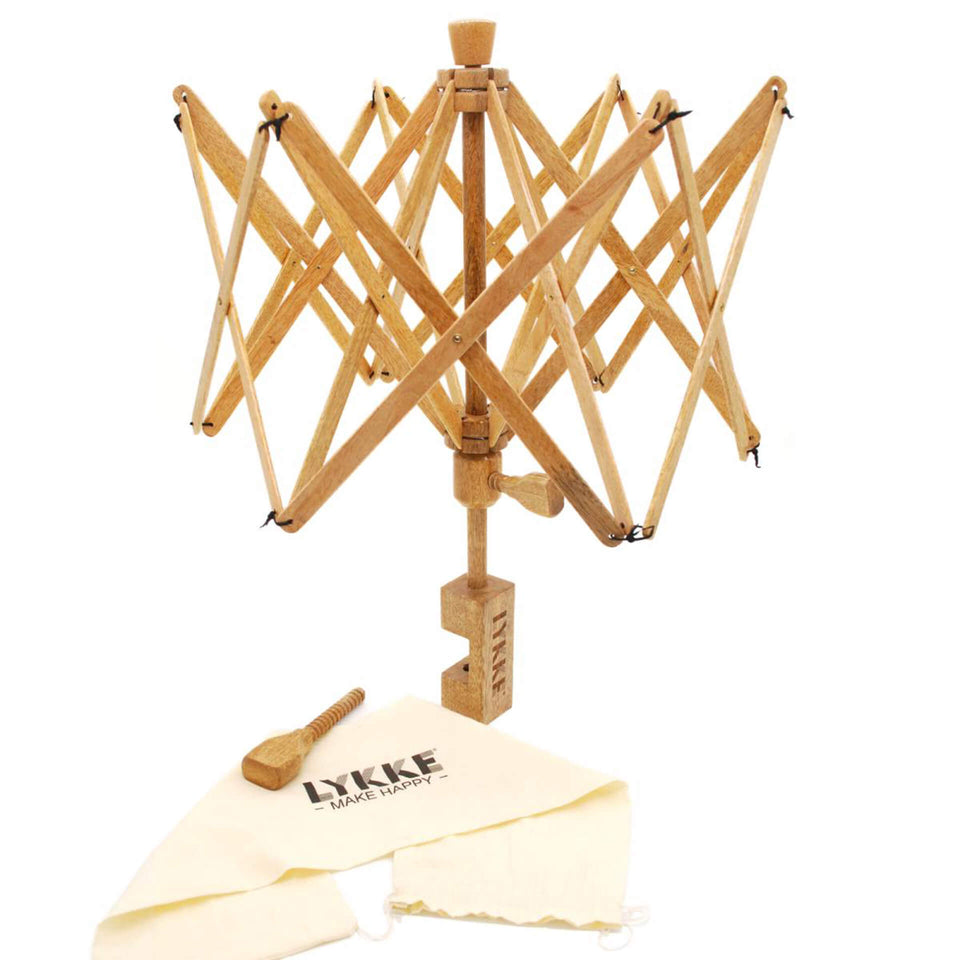 Lykke Mango Wood Umbrella Swift
01-03KF-LSUMango
by Lykke
Add this brand new umbrella swift from LYKKE Crafts to enjoy a smooth making experience! Handmade in India, it's an essential fiber craft tool for knitters, crocheters, spinners, weavers, and hand-dyers alike. Made from strong and sustainably sourced mango wood, it is fully adjustable to accommodate different skein sizes, up to 94" (2.4 m) in circumference. Use it to create skeins of yarn for easy washing or hand-dyeing, or combine it with Lykke Ball Winders to create perfect yarn cakes. Each umbrella swift comes in a plastic-free packaging with a cute protective storage bag.

Check out the matching LYKKE Mango Ball Winder!
You can watch this instructional video on Facebook of the ball winder and swift being set up.
Details
Care Instructions
Important Info
WHY WE LOVE IT — Incredibly lightweight, amazingly durable + everlasting, natural, did I mention gorgeous looking? 
CONTENT  — 100% mango wood yarn swift, two pins, and storage bag
DIMENSIONS  —    
Height (without pin): 23 5/8" (~60 cm)
Maximum Diameter: 30" (~76.2 cm)
Clamp Height: 1 7/8" (~4.8 cm)
Clamp Depth: 1 1/4" (~3.2 cm) 
ORIGIN — India
If needed, it is  a good idea to clean with muslin or shammy.  I do not recommend using beeswax since I have not personally tested this theory on these products; therefore, I cannot say with certainty that it works or that it will not damage the needles. Besides, I do not recommend using anything on your ball winder as it may void the warranty.
I do suggest to store it safely while not in use. Please keep it out of extreme temperatures and direct sunlight - too much heat will make the smooth finish dull.
Lastly, I also do not recommend using any lotions on your hands while using it - certain chemicals react with the wood, causing the finish to become dull very quickly. 
This beautiful product is handcrafted and assembled in India, using production routines that do not rely on mechanized automation. Instead, their products benefit from the skilled and graceful human touch of their skilled Indian craftspeople. Revenue from the sale of LYKKE Crafts products also serves to Make Happy in that community through varied benefit programs for the workers, their children, and the community. We are so happy and proud to support the growth and development of the local economies. 
Please note that we try our best to display our colors as accurately as possible, but due to monitor differences and the dyed process, actual colors may vary slightly from what appears online. Feel free to contact us at hello@maxandherb.com if you have any questions