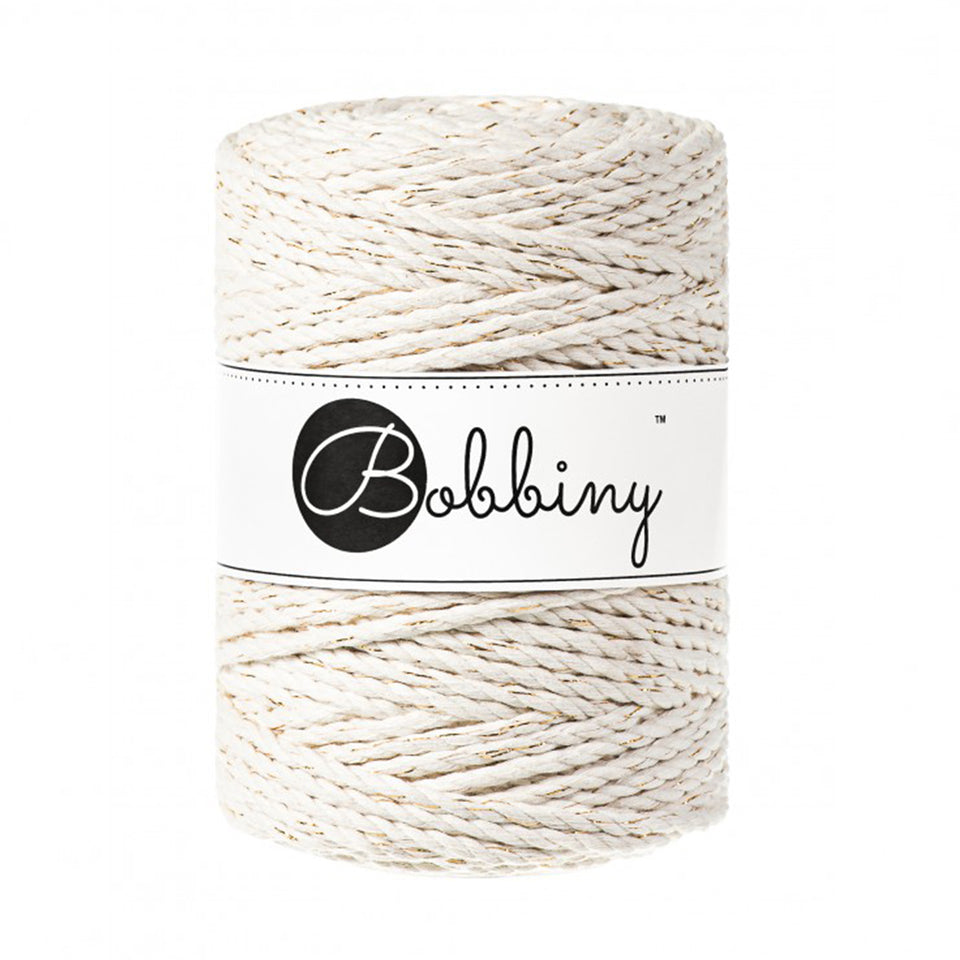 3PLY Macramé Rope 5mm Golden Touch
01-01BB-CR7
by Bobbiny
Add a touch of glam to your fiber art with this Golden Natural Macrame Rope! The new 5mm 3ply Macramé Rope is a triple twist cotton cord composed of 120 single threads twisted with three 40-thread parts. It is perfect for macramé, weaving, basketry or any fiber art.
It is super soft, smooth, and knots beautifully, adding amazing texture to your work. Thanks to its twisted structure it is firm and strong, making it ideal for those projects that need precision and definition, or need that extra strength to bear weight, like plant hangers or crocheted bags.  Easy to work with and soft on the hands, use it for adding the perfect twirly fringes and tassels to your project.
DETAILS
SUSTAINABLY-MADE

CARE INSTRUCTIONS
WHY WE LOVE IT  — Premium quality, extremely soft, easy to handle, gentle to the hands, structured, flexible, durable, in trend

CONTENT  — 98% recycled cotton | 1% polyester | 1% Polyamide
                        Rolled on sustainable spool
LENGTH  —  108 yards  |  100 meters
SIZE —  0.2'' |  5 mm
WEIGHT —  1.76 lb  |  800g
These gorgeous cords are made by a family-owned company in Poland. Truly sustainable, the thread comes from old clothes and textile waste. No water or toxic chemicals are used in the production process, saving energy and reducing CO2 emissions. The textiles are shredded until converted into dust. At this stage, the color is created – the shredded cotton in various colors is mixed in specific proportions to receive the desired shade. The fibers are then spun into thread which is later delivered to the company. Even their production waste is passed to local zero-waste initiatives.

Please note that we try our best to display our colors as accurately as possible, but due to monitor differences, actual colors may vary slightly from what appears online. Feel free to contact us at hello@maxandherb.com if you have any questions.
Washable with care, by hand (no wringing or dry-spinning)