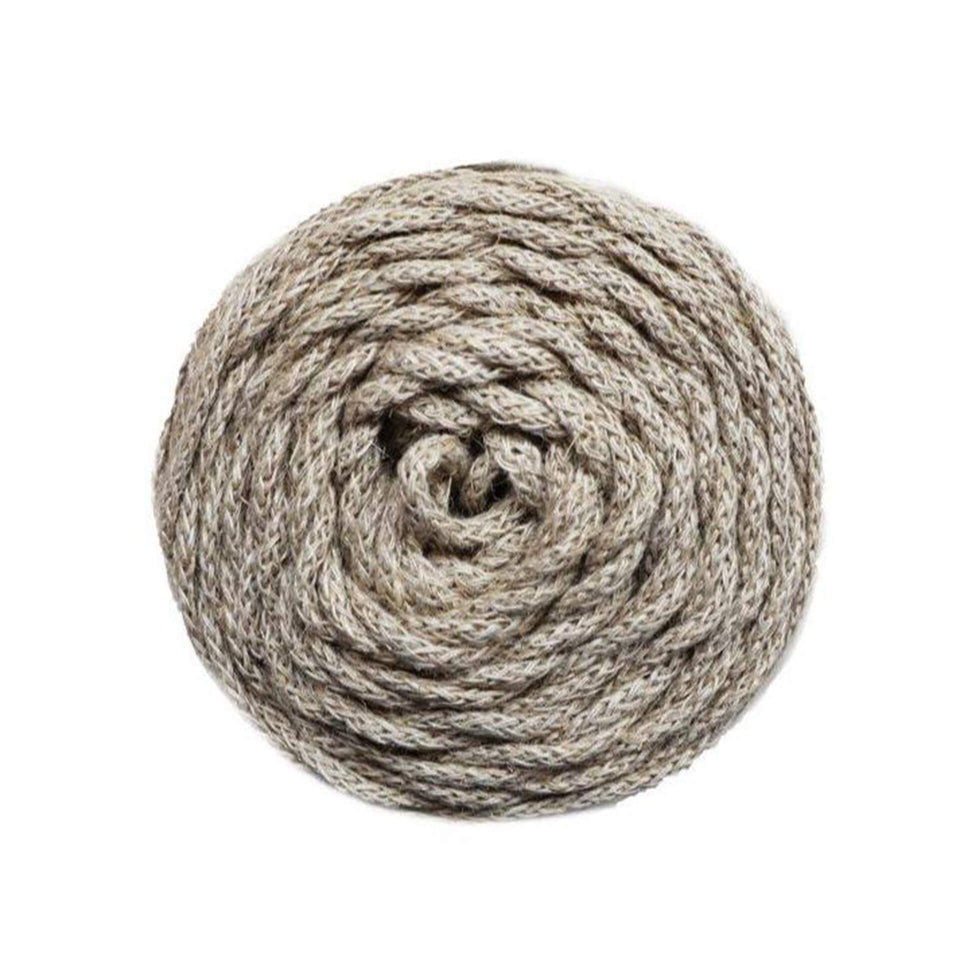 Braided Rustic Air 4.5mm Natural Linen
01-01GX-RA4.5Natural
by Max and Herb
Add some beautiful rustic texture to your macrame, crochet & knitting pieces with Rustic Air. It's 100% made of natural linen fiber, braided into a cord and comes in its natural color. Rustic Air is bulky but it's also lightweight, perfect to make pieces pretty fast and making big projects like market bags or to incorporate in your wall hanging designs. Ideal for home deco projects like rugs, lamps, storage baskets, pillows and bags, the possibilities are endless!
It complies with the regulations of Standard 100 of Oeko-Tex product class I. In our rustic air, no harmful or toxic substances have been applied for its production, complying with the requirements of the OEKO-TEX® certification. 
Details
OEKO-TEX CERTIFICATION

Important Info

WHY WE LOVE IT – Natural, rustic, lightweight, bulky, ecofriendly, vegan, versatile + perfect for different crafts (have you thought of making a basket? What other home decor project do you have in mind?)
FIBER CONTENT — 100% OEKO-TEX Linen
WEIGHT — 250g | 0.55lb
LENGTH — 50 m  |  55 yd
WIDTH —  4.5mm  |  0.18" 
SUGGESTED KNITTING NEEDLES — 8-12 mm | US 11-17
SUGGESTED CROCHET HOOK — 3.5-8mm  | E/4-L/11  US
Certified according to STANDARD 100 by OEKO-TEX(R). Certificate Number: 2003AN0084 AITEX
OEKO-TEX® Standard 100 is the world's leading organic label for textiles to determine if they contain harmful substances. This product meets the requirements of Annex XVII of REACH (including the use of ado dyes, nickel, etc..) as well as it meets the American requirements for the total content of lead in children's articles. 
We source this fiber from an amazing family-owned producer in Barcelona (Spain). We're proud to meet the European and American standards and norms that keep you and our planet safe. 
Please note that we try our best to display our colors as accurately as possible, but due to monitor differences and the dyed process, actual colors may vary slightly from what appears online. Feel free to contact us at hello@maxandherb.com if you have any questions.  We always recommend to add one or two more skeins to your order to avoid color variations in the final piece due to slightly color differences between batches. 
We are always striving to deliver quality products, and take great care in sourcing our products to ensure your utmost satisfaction. If you experience any issues with your transaction, please get in touch with us and we will endeavour to fix the problem as soon as possible.