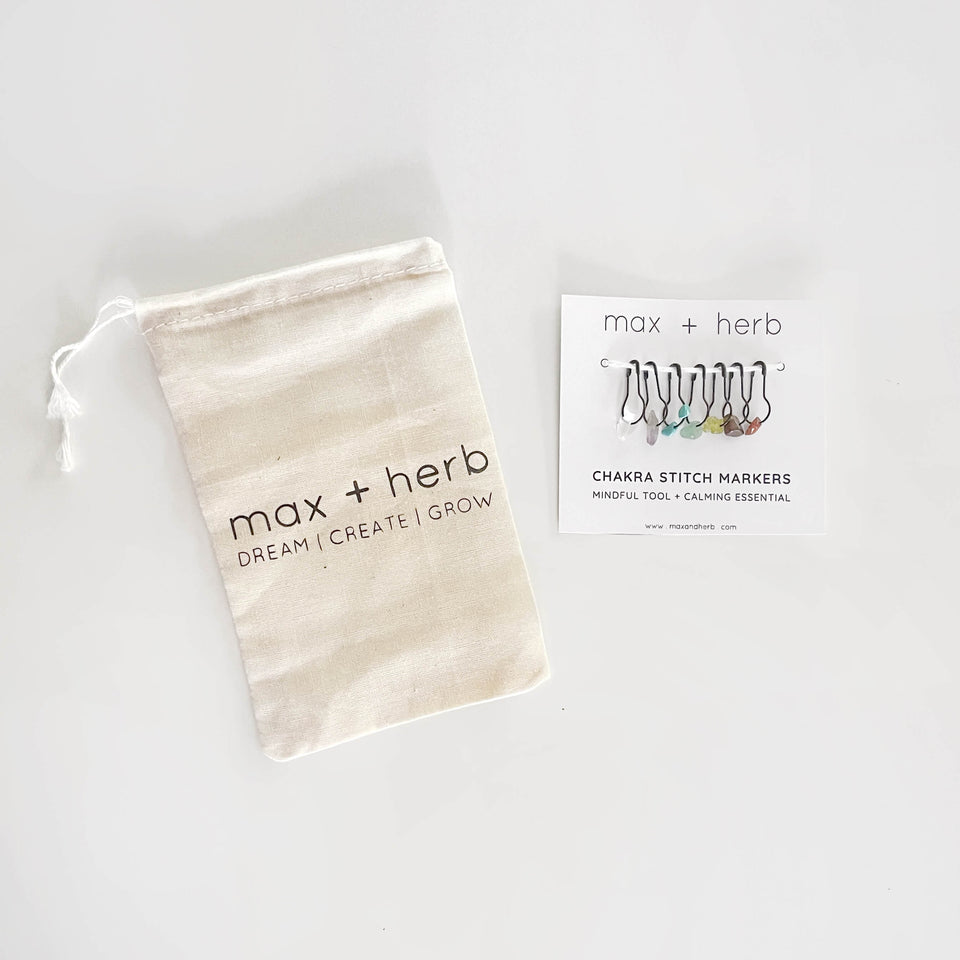 Chakra Stitch Markers for mindful crafting - Set of 7
by Max and Herb
Crafting is a mindfulness practice with a calming effect on body and mind. Now, you can add a special tool to this peaceful activity with the beautiful Chakra stitch markers.

Made with natural crystals, the decorative stone pendants on these stitch markers represent the seven chakras. According to traditional Indian culture, chakras are the seven energy points in the body that are important for vitality. The gemstones on the Chakra stitch markers connect to these primary seven chakras in the human body, restoring balance and natural energy flow for maximum well-being.
The Chakra stitch markers can be moved around the needle during knitting or crocheting, between two stitches, to mark a specific part of a pattern, or to indicate a decrease or an increase. They are beautifully packaged in a fabric pouch. Available per one set of 7 pieces that fit knitting needles up to size US #8 (5mm).
Details
Handmade item
Important Info
WHY WE LOVE IT —  Easy to use, calming and essential tool, sweetly handmade, easy to put on and take off
CONTENT — 7 Stitch Markers + fabric pouch 
ORIGIN — United States
Please expect slight variations from item to item as this is a handmade and natural product. Items shown are for illustration as these are natural please expect some variance from item to item. Item supplied will be very similar but not identical.
IMPORTANT INFO — The statements on this site have not been approved by the Food and Drug Administration. Any information that may be found anywhere on this site is not presented as a substitute, nor intended to be a substitute for medical advice, treatment or diagnosis. We feel that crystals can complement other therapies and support energetic well being. There alleged properties are gathered from writings, books, folklore and many other sources. They are dependent upon the attitude and beliefs of the individual. Crystals should not be used as a replacement for medical treatment. Feel free to contact us at hello@maxandherb.com if you have any questions