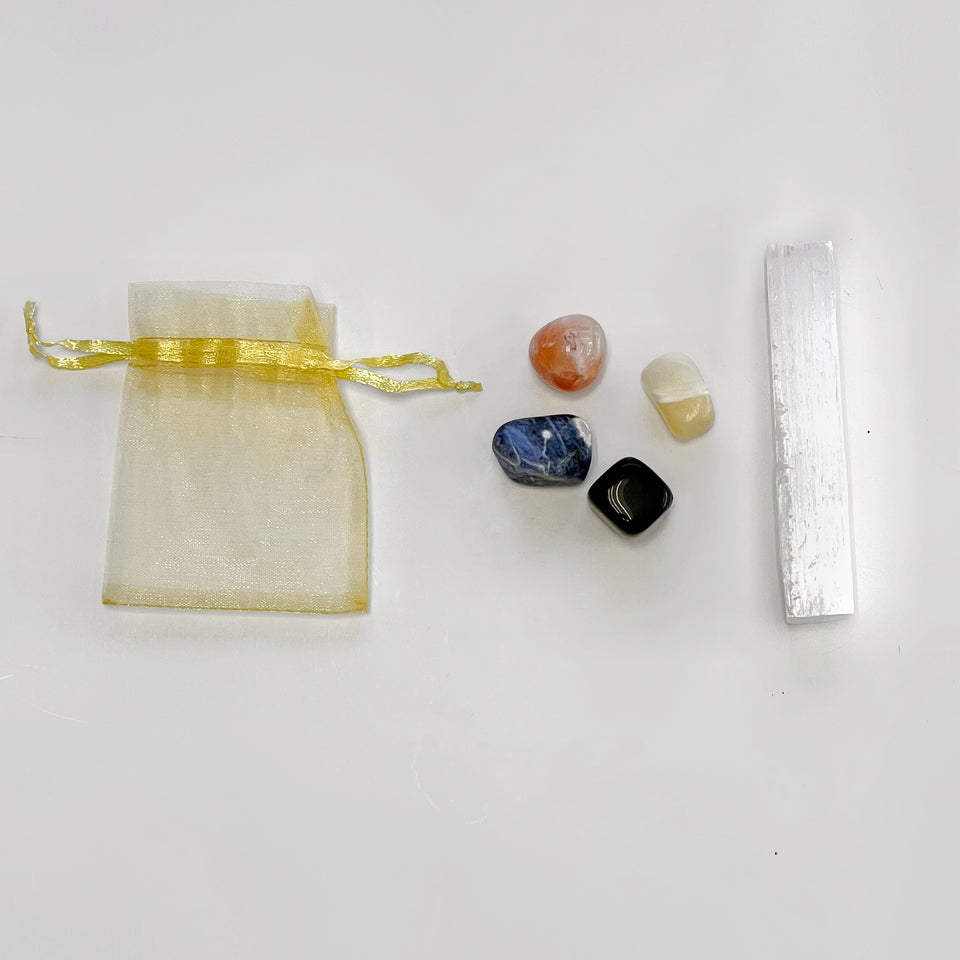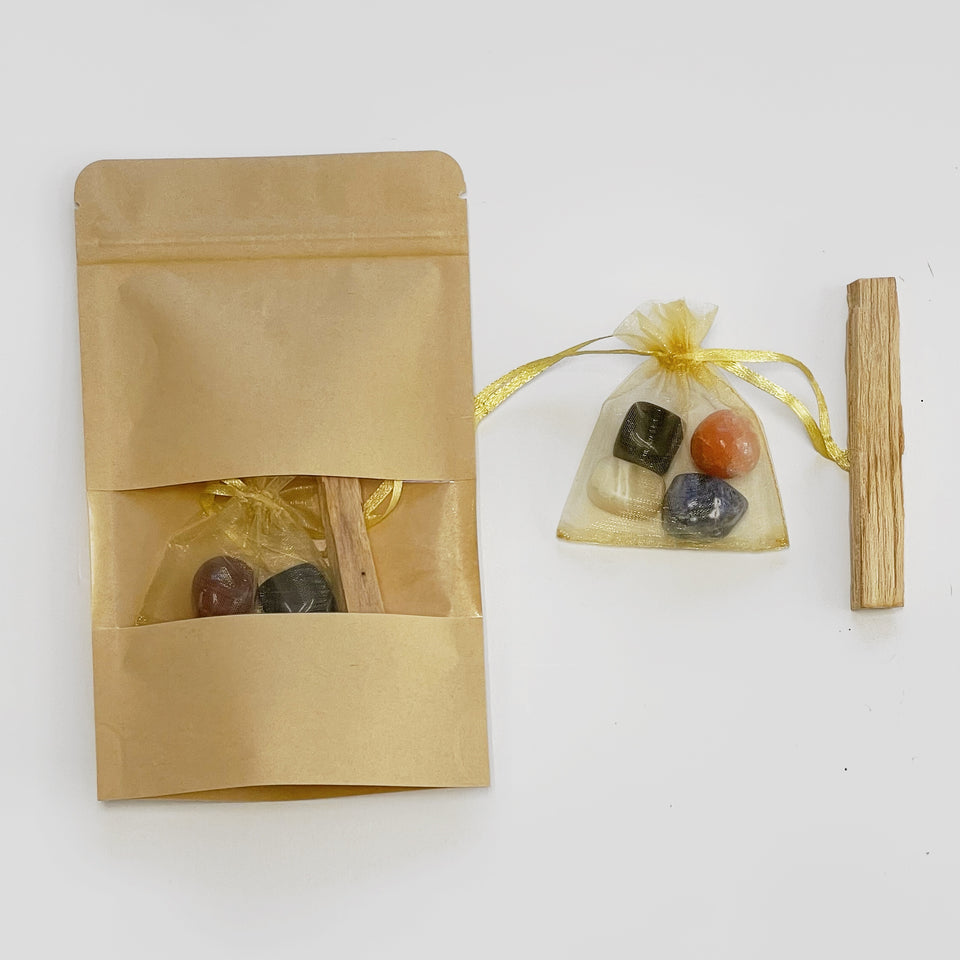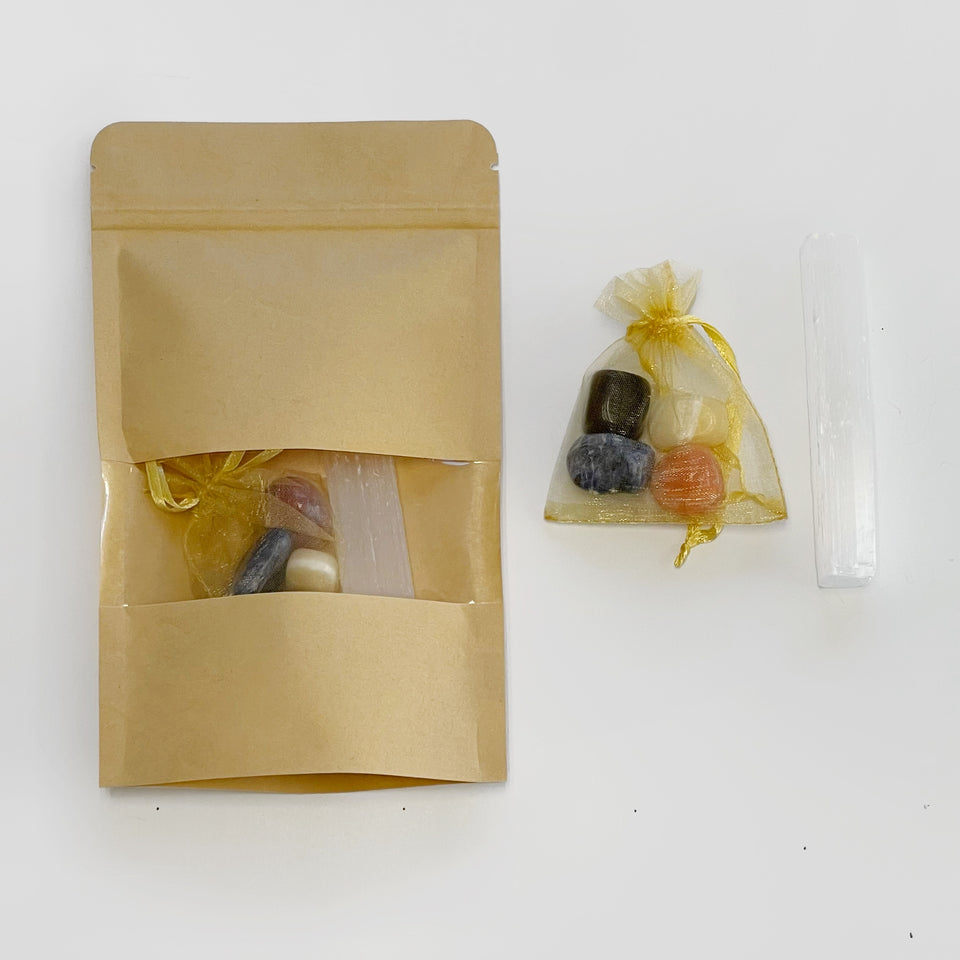 Creativity + Inspiration Crystal Kit
by Max and Herb
A beautiful, handpicked Crystal Kit to attract inspiration and expand creativity. Whether seeking divine inspiration or just looking to pull yourself out of a slump, this Creative and Inspiration Crystal Set is here to help. The crystals included in this set were specially chosen because they can help to unlock doors, channel your focus, and help to bring that messy glorious artistic beauty flowing out of you. 

Kit includes four tumble stones that promote creativity and inspiration, plus a palo santo or selenite wand to clean the stones and expand their energy. 
Black Obsidian - for grounding, protection from negative energy. Absorbs negative thoughts/emotions. Grounding & mood balancing.
Sodalite - for  self-expression and self-worth. Sodalite opens the Throat Chakra and aids in communication, helping you speak up as well as understanding better what others have to say.

Citrine - to detoxify self-doubt and self-negativity. This gem has the positive properties of joy, confidence, and creativity. Citrine is also used to manifest abundance and prosperity.

Carnelian - for courage. It is a booster for positive self-perception, this gorgeous fiery stone is also great to aid and negative energy towards yourself. It enhances your creativity, inspiration and sexual energy as well.
The perfect gift for artists, makers, and anyone that needs a spark of creativity into their daily life. 
**Make sure to read the tab below on ways to use the crystals, palos santo, and selenite**
DETAILS

HOW TO USE

IMPORTANT INFO

WHY WE LOVE IT  —  Healing and energizing properties,  natural, eco-friendly,  cleanse power, greater sense of protection and clarity.
SET INCLUDES — 4" - 10cm Selenite or Palo Santo (your choice)
Four Tumble stones to spark creativity and inspiration 
Small bag 
Please expect slight variations from item to item as this is a natural product. Items shown are for illustration as these are natural please expect some variance from item to item. Item supplied will be very similar but not identical.
Ways to use the crystals
Hold during mindfulness exercises or meditations
Create a crystal grid to direct energy to your desired intention
Carry with you in a pocket or necklace to keep their energy with you throughout your day
 How to use your Palo Santo
Ignite your stick of Palo Santo with fire. Let it burn for approx. 30 seconds, then blow out the flame. The Palo Santo will continue to smolder releasing smoke; this means it is cleansing.
How to use your Selenite Wand 
Rub the crystal like a scrub brush in your aura about 5 to 7 inches away from your body. Don't forget to remove any unwanted energy from under your feet and from the soles of your shoes. 
By leaving it beside your crystals or even on top of your crystals, it will quickly draw out any negative energy or blocks that may have been causing your stone to stutter. It will help return your crystal to that fresh-faced, amplified energy mood. 
IMPORTANT INFO — The statements on this site have not been approved by the Food and Drug Administration. Any information that may be found anywhere on this site is not presented as a substitute, nor intended to be a substitute for medical advice, treatment or diagnosis. We feel that crystals can complement other therapies and support energetic well being. There alleged properties are gathered from writings, books, folklore and many other sources. They are dependent upon the attitude and beliefs of the individual. Crystals should not be used as a replacement for medical treatment.