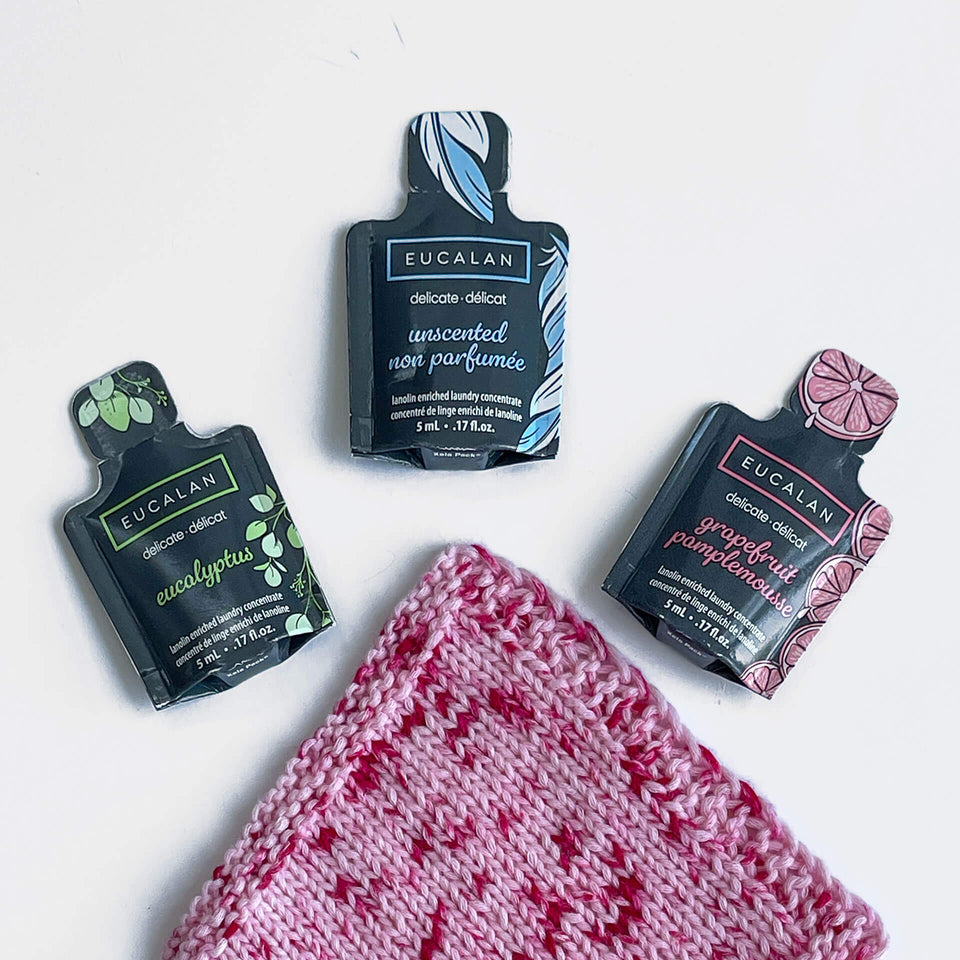 Eucalan Fabric Wash
by Eucalan
Eucalan No Rinse Delicate Wash provides superb cleaning and conditioning for any natural fiber and is ideal for use by hand or machine. It is nontoxic, biodegradable, and phosphate free. The natural lanolin-enriched formula conditions the fiber and helps keep static away. Available in natural, grapefruit, and eucalyptus scents, this 0.17 oz single pouch size is perfect for travel.
 Note: Due to restrictions shipping liquids, we can't ship Eucalan Wool Wash internationally.
DETAILS
INGREDIENTS
WHAT SCENT TO CHOOSE?
HOW TO USE?
WHY WE LOVE IT  — Nontoxic, biodegradable, antibacterial, and phosphate free, hypoallergenic, free of optical brighteners, phosphates, synthetic fragrance and dye. Eucalan is pH neutral and is packaged in an easy to recycle, dye free HDPE plastic bottle.  
SIZE  — Traveler´s size (0.17 oz single pouch)
Eucalan Ingredient List: Essential Oil (where applicable) (Pure and natural eucalyptus, lavender, grapefruit or jasmine oils) Ammonium Lauryl Sulphate (Vegetable-based soap) Ammonium Chloride (Is a salt of ammonia; used as a thickener) Cocamide MEA (Mild foaming agent and thickener derived from plant source) Purified Water Hydroxypropyl Methylcellulose (Thickener derived from plant source) PEG 75 Lanolin (Naturally derived lanolin) Methylchloroisothiazolinone (Preservative and antibacterial)
When choosing a scent, it really comes down to personal preference. You may choose a scent simply because you love it or you could choose one that best suits a specific purpose. Check out each of our scents to learn what makes each unique and which are the best fit for your needs.
Eucalan's Eucalyptus is scented using essential oil of eucalyptus which is a natural moth and flea inhibitor. Use Eucalan Eucalyptus regularly on woolens and particularly before storing them for the season. Use on all your delicates like sweaters, lingerie, hosiery, comforters, down jackets, bathing suits and baby items. An excellent choice for men.
Eucalan's Grapefruit is scented using essential oil of grapefruit which is a natural antiseptic, particularly nice to use on garments that lie close to the skin like hosiery, workout wear, bathing suits and lingerie. Use on all your delicates and enjoy the fresh light scent.
Eucalan's Natural is the same great formula, but no scent has been added to it. It is Eucalan, bare and naked, as we have not added any chemicals to take away the natural scent of the product. Great for those scent sensitive people.
To wash your garments, Eucalan recommends:
Fill basin with tepid water (room temperature water, not hot and not cold)
Add Eucalan to basin. Insert article to be washed and soak for 15 min. (minimum).
Squeeze article gently to incorporate water and soap through fibres.
No need to rinse. Pull article out of water and gently squeeze out excess water. Do not twist or ring. Follow drying instructions below.
Drying: Important: Dry all items out of direct heat and sunlight. Lay knit articles flat on clean dry towel. Roll article in towel to remove excess moisture. Lay flat to dry on drying rack or clean dry towel.