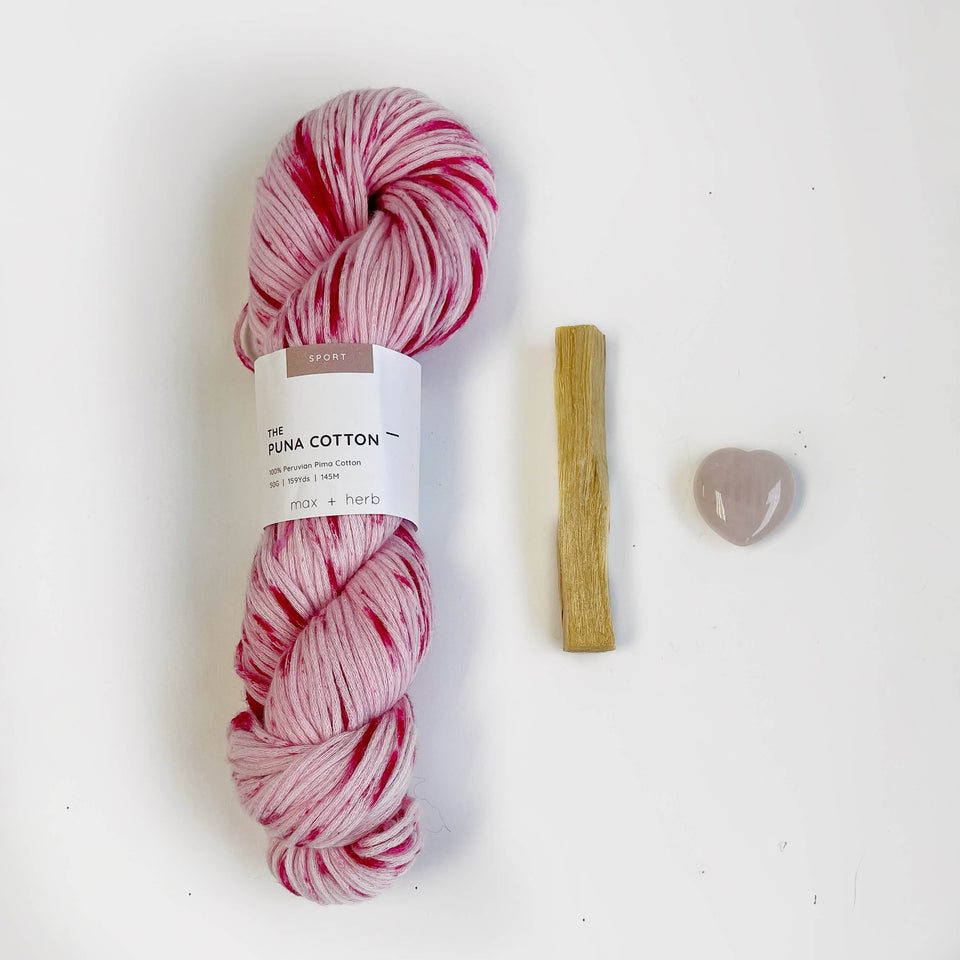 Intention Maker Kit —
by Max and Herb
Pause, breath and realign with Max and Herb Intention Maker Kit.
If you have heard about the benefits of meditation, but you have found it hard to do, this kit is perfect for you. Knitting, crocheting, and other handcrafts are no longer considered just quaint hobbies; they have a de-stressing magic. Experts say the repetitive motion of needlecrafts can bring on a state of calm similar to that experienced in meditation or yoga.  
With this in mind, the Intention Maker Kit brings everything you need to help you create the perfect atmosphere for this magical eco-minded activity.

Allow the deeply aromatic Palo Santo fill your sacred space with positivity, protection, and calming energies.
With one hank of The Puna Cotton, create any knitting or crochet project that you have in mind. Here are a few free + beginner friendly ideas. A simple and yet very helpful ritual that offers numerous benefits backed by science. 

Lastly, place the Rose quartz Crystal carry around or place the stone near you to radiate its loving energy. It's said to boost feelings of self-love and foster loving relationships with others. 
Learning to relax is actually a skill and when practiced frequently, over time the health and well-being benefits are vast. It is not easy to start, nor to build a routine, but it is worth the investment for a better quality of life.
Join me in being a creative meditator!
DETAILS

IMPORTANT INFO

WHY WE LOVE IT  —  Healing and energizing properties,  natural, eco-friendly,  cleanse power, greater sense of protection and clarity.
KIT INCLUDES — One hank The Puna Cotton (Pink Seashell)
One Palo Santo (4" - 10cm length) 
Heart shaped Rose Quartz Tumble Stone 
Please expect slight variations from item to item as this is a natural product. Items shown are for illustration as these are natural please expect some variance from item to item. Item supplied will be very similar but not identical.
IMPORTANT INFO — The statements on this site have not been approved by the Food and Drug Administration. Any information that may be found anywhere on this site is not presented as a substitute, nor intended to be a substitute for medical advice, treatment or diagnosis. We feel that crystals can complement other therapies and support energetic well being. There alleged properties are gathered from writings, books, folklore and many other sources. They are dependent upon the attitude and beliefs of the individual. Crystals should not be used as a replacement for medical treatment.