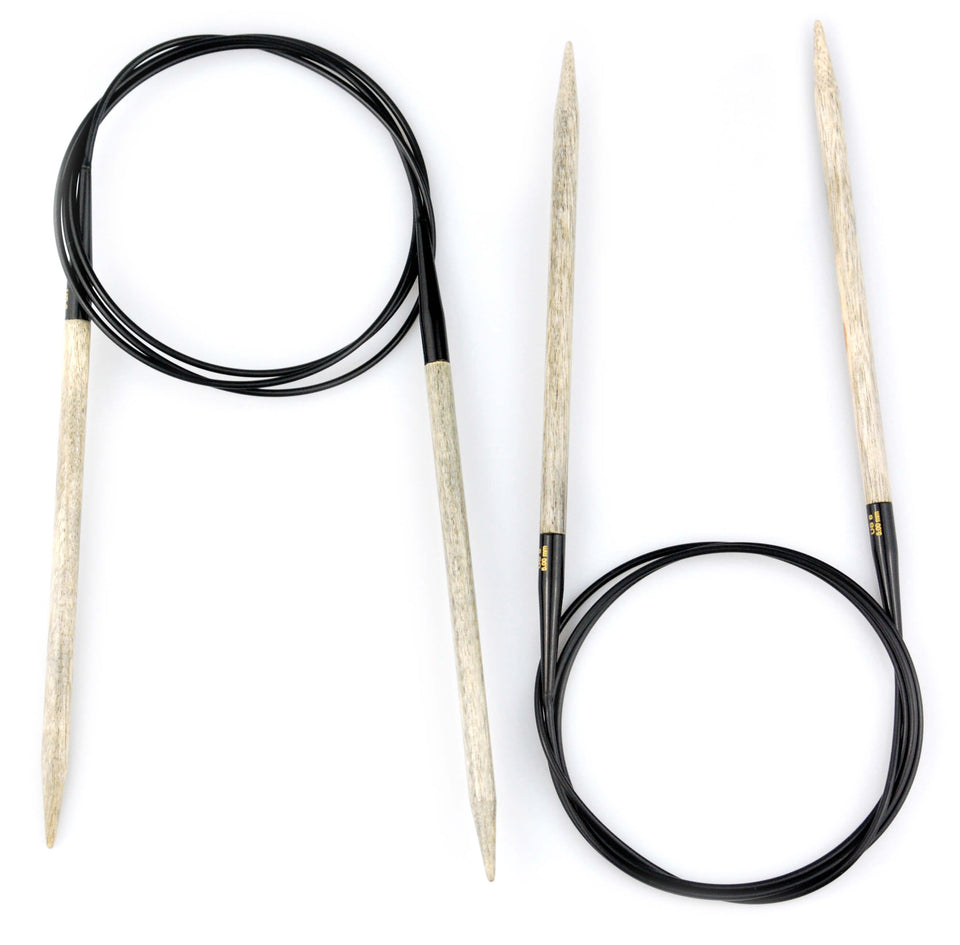 Lykke Driftwood 24" Fixed Circular Knitting Needle
by Lykke
Made of strong birch wood, the LYKKE 24" Circular Knitting Needles are simply gorgeous and a pleasure to work with. The warmth and smoothness of hardwood nurtures sensitive fingers and provides natural strength and consistency for a lasting product. This means these needles are insanely sleek and lightweight, but amazingly durable at the same time!
It's a fine choice for knitting needles because it allows for tip integrity (no fraying or splintering) while also still yielding ever so slightly in your hands. With a varying greyish, driftwood-like finish, they are careful on the eyes too, making every yarn clearly visible, no matter what color you choose. 
Jump right into that design you had in mind with these high-quality and artisanal needles because they won't let you down!
All LYKKE needles and hooks have both US and metric sizes etched on to ensure long-term readability (sizing won't wear off).
Details
Care Instructions
Important Info
WHY WE LOVE IT  — Incredibly lightweight, amazingly durable + everlasting, natural, did I mention gorgeous looking? 
CONTENT  — 100% Birch Wood
ORIGIN  —  Nepal
High-quality wooden needles will naturally become slicker with use (from the lanolin in wool and oil from knitters' hands). If needed, it is  a good idea to clean with muslin or shammy.  I do not recommend using beeswax since I have not personally tested this theory on these products; therefore, I cannot say with certainty that it works or that it will not damage the needles. Besides, I do not recommend using anything on your needles as it may void the warranty.
I do suggest using stoppers when not knitting, so that they may be stored safely while not in use and their tips remain intact. Please keep them out of extreme temperatures and direct sunlight - too much heat will make the smooth finish dull.
Lastly, I also do not recommend using any lotions on your hands while knitting - certain chemicals react with the wood, causing the finish to become dull very quickly. 
The needles and hooks are handcrafted and assembled in Nepal, using production routines that do not rely on mechanized automation. Instead, their products benefit from the skilled and graceful human touch of their skilled Nepalese craftspeople. Revenue from the sale of LYKKE Crafts products also serves to Make Happy in that community through varied benefit programs for the workers, their children, and the community. We are so happy and proud to support the growth and development of the local economies. 
Please note that we try our best to display our colors as accurately as possible, but due to monitor differences and the dyed process, actual colors may vary slightly from what appears online. Feel free to contact us at hello@maxandherb.com if you have any questions