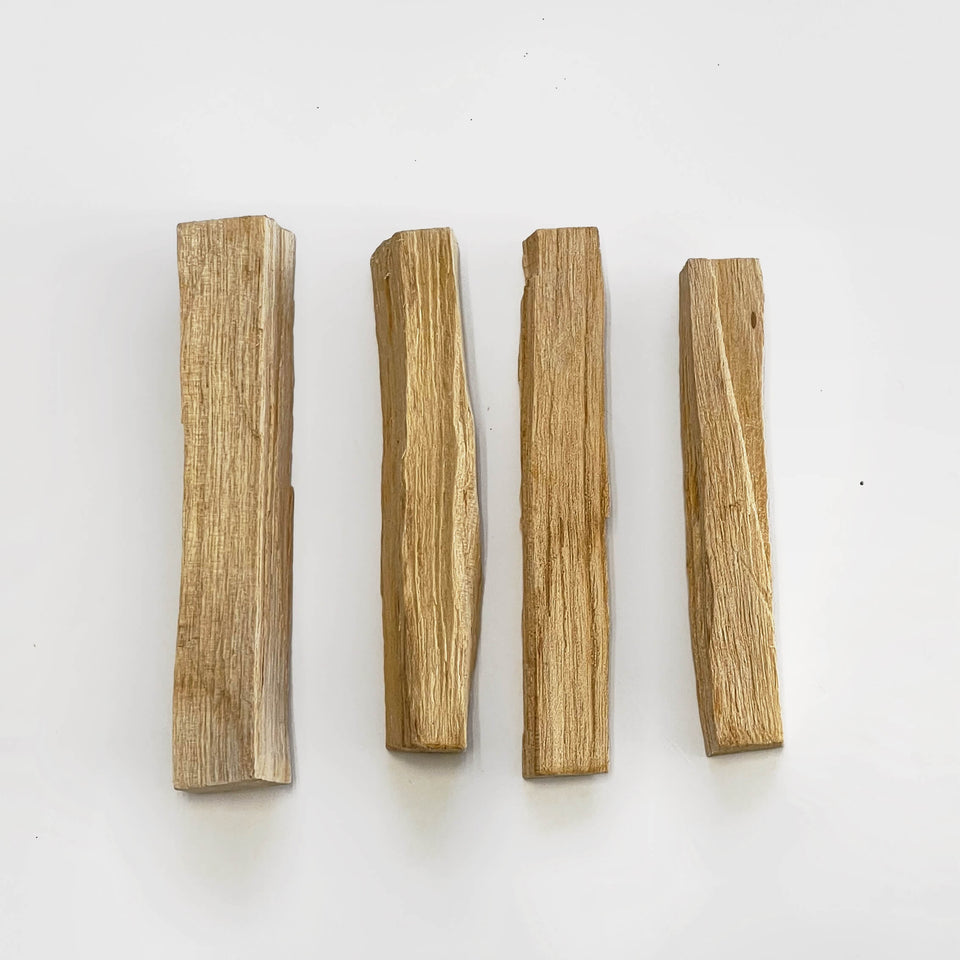 Palo Santo Stick
by Max and Herb
Rejuvenate mind, body, space and soul with the soothing incense of the Palo Santo Stick.
This beautiful aromatic incense wood is believed to cleanse the space or the body and aura, drive away negative energy and help reconnect with mother earth. 
The Palo Santo stick is fantastic to burn before, during, and after meditation sessions!  If you are just starting out with smudging don't be too worried about which instructions are 'correct' or 'work best'. Do what works best for you and 'feels right' for you. Your 'intention' is a key component of the ritual so be clear on what you want to achieve and keep that in mind as you perform the ritual.

Do not leave burning smudge unattended. At the end of the ceremony make sure the stick is extinguished. Do not use if you suffer from Asthma or have respiratory issues. Do not use near infants or young children or anyone who is or may be pregnant.   
 ** Make sure to read the instructions in the tab below on how to use the palo santo wood stick**
DETAILS

HOW TO USE

IMPORTANT INFO

WHY WE LOVE IT  —  Healing and energizing properties,  natural, eco-friendly,  cleanse power, greater sense of protection and clarity, sustainable + Non-Toxic. 
CONTENTS — All of our smudge sticks are created using only wild herbs, plants, trimmings, and are derived from nature and cultivated sustainably from private land.
DIMENSIONS — 4" - 10 cm approx. 
Please expect slight variations from item to item as this is a natural product. Items shown are for illustration as these are natural please expect some variance from item to item. The photos are representative of what you'll receive, but the coloring and size of each smudge stick is different.
How to Use Palo Santo…
1) ALWAYS use caution while burning Palo Santo. 
Make sure the room where you are smudging is well ventilated. Open all the doors and windows to drive out the negative energies and as a health precaution as well.
2) Ignite your stick of Palo Santo with fire. Let it burn for approx. 30 seconds, then blow out the flame. The Palo Santo will continue to smolder releasing smoke; this means it is cleansing.  
3) Use the grey smoke to cleanse your living space, stones, car, anywhere you feel it's necessary. As you're burning the palo santo, it's important to express gratitude for the help of the stick spirit as well as to express your intention for why you're burning it in the first place. 
4) When finished cleansing, set the smoldering stick into an abalone shell or glassware. Use something that will not burn. You can crush the end in sand or dirt, or place the cover of the pot over it. Just be sure the stick is extinguished before it is left.
 

IMPORTANT INFO — The statements on this site have not been approved by the Food and Drug Administration. Any information that may be found anywhere on this site is not presented as a substitute, nor intended to be a substitute for medical advice, treatment or diagnosis. We feel that crystals, palo santo, and other self care products can complement other therapies and support energetic well being. There alleged properties are gathered from writings, books, folklore and many other sources. They are dependent upon the attitude and beliefs of the individual. Crystals and the self care product collection should not be used as a replacement for medical treatment.