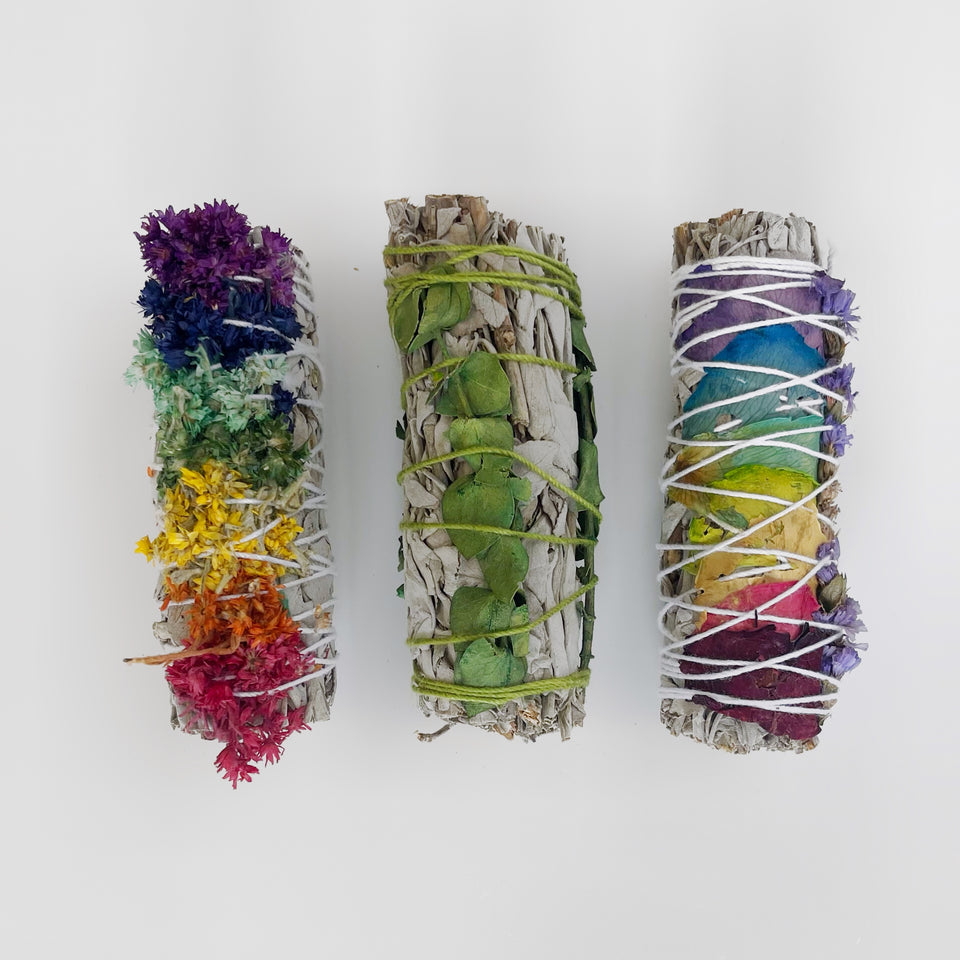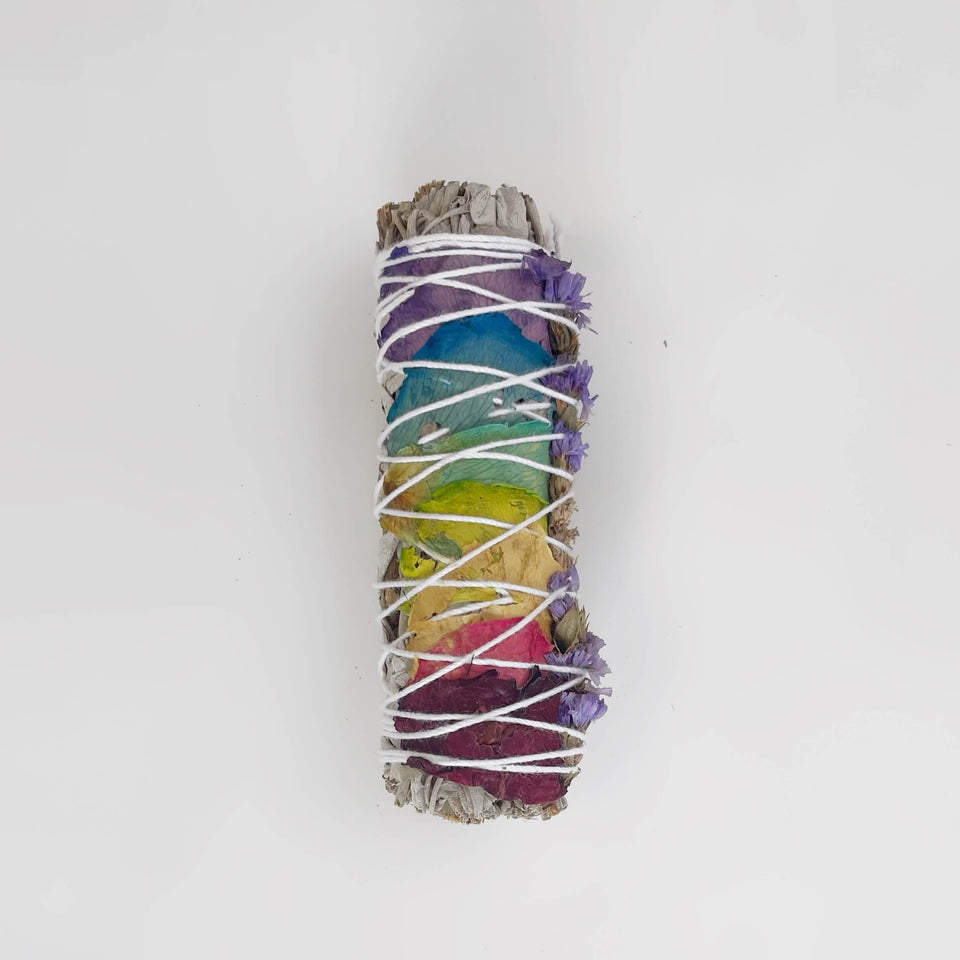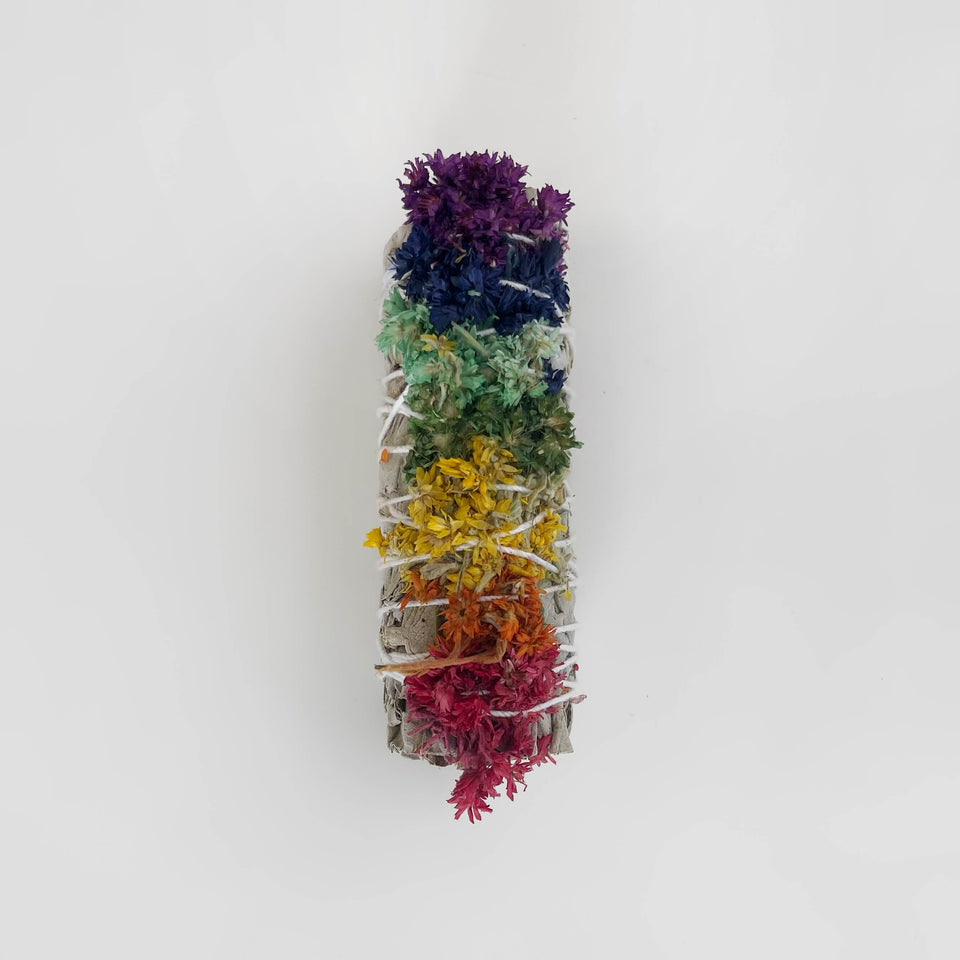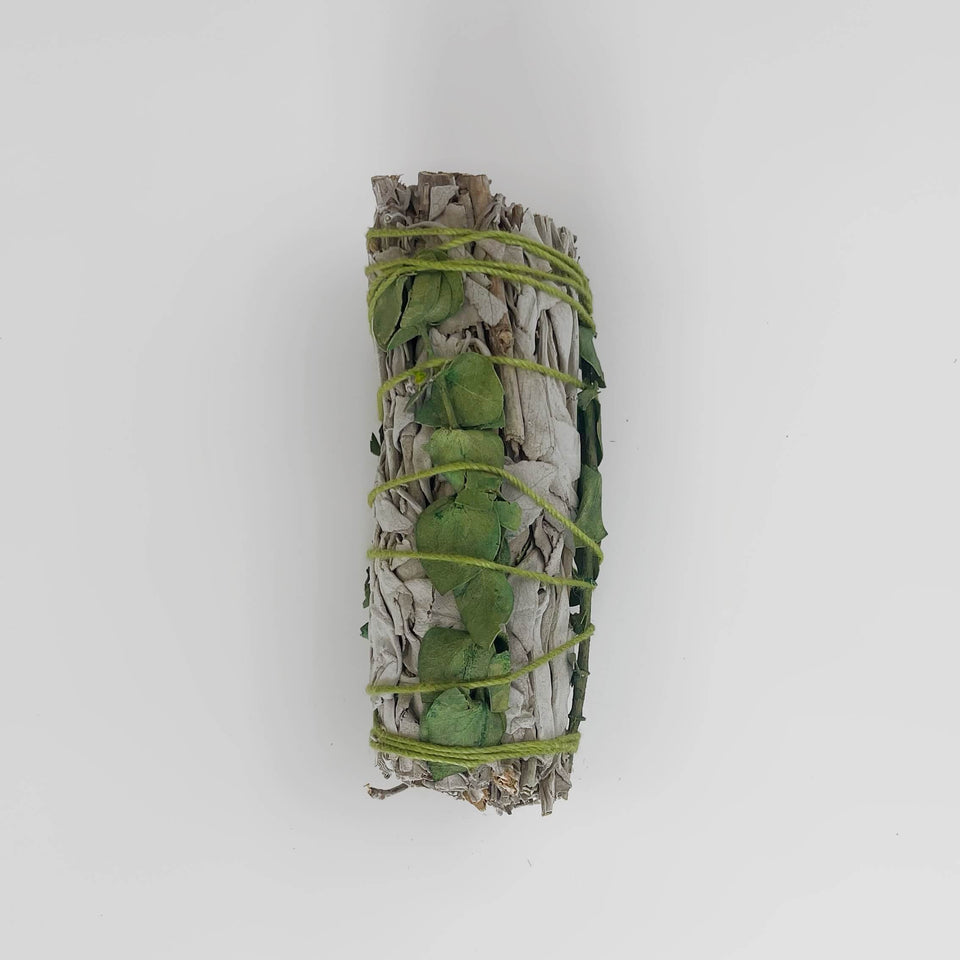 White Sage Smudge Stick
by Max and Herb
Rejuvenate mind, body, space and soul with the soothing vapors of the White Sage Smudge Stick.
The White Sage Smudge Stick is hand-wrapped with care. It comes with colored rose petals, small cute flowers, or eucalyptus leaves. The colored flowers and petals represent the 7 chakras and it is used to deep cleanse your environment, soul, or simply to manifest good vibes and align your 7 chakras. The crushed eucalyptus leaves are used to create a kinship of peace and vitality in every space.

Sage is one of the sacred plants used around the world to purify the air and clear negative energies. It is used to protect against negative influences, clear space for access to visionary states, and to bring mental and spiritual clarity to your space.
This smudge stick is fantastic to burn before, during, and after meditation sessions! 


DETAILS

HOW TO USE

IMPORTANT INFO

WHY WE LOVE IT  —  Healing and energizing properties,  natural, eco-friendly,  cleanse power, greater sense of protection and clarity, sustainable + Non-Toxic. 
CONTENTS — All of our smudge sticks are created using only wild herbs, plants, trimmings, and are derived from nature and cultivated sustainably from private land.
DIMENSIONS — 3" - 7.5 cm approx. 
Please expect slight variations from item to item as this is a natural product. Items shown are for illustration as these are natural please expect some variance from item to item. The photos are representative of what you'll receive, but the coloring and size of each smudge stick is different.
How to Use White Sage…
The easiest and most popular way to tune into the benefits of white sage is by burning the dried leaves. This ritual is known as sage smudging – and it's practiced by burning a bundle of dried sage and then directing the smoke onto the areas that you want to clear or protect.
As the bundle is burning and the smoke spirals, wafts and begins to fill a space, it is cleansing. As you're burning white sage it's important to express gratitude for the help of the plant spirit as well as to express your intention for why you're burning sage in the first place.
In this very simple way, the energy of white sage brings cleansing, protection, and blessings into space it's burned in.
The smoke attaches to negative energies, and as the smoke then begins to dissipate it transforms those negative energies into universal energy.  And so, your intention for cleansing, clearing, and protection is fulfilled.
IMPORTANT INFO — The statements on this site have not been approved by the Food and Drug Administration. Any information that may be found anywhere on this site is not presented as a substitute, nor intended to be a substitute for medical advice, treatment or diagnosis. We feel that crystals can complement other therapies and support energetic well being. There alleged properties are gathered from writings, books, folklore and many other sources. They are dependent upon the attitude and beliefs of the individual. Crystals should not be used as a replacement for medical treatment.