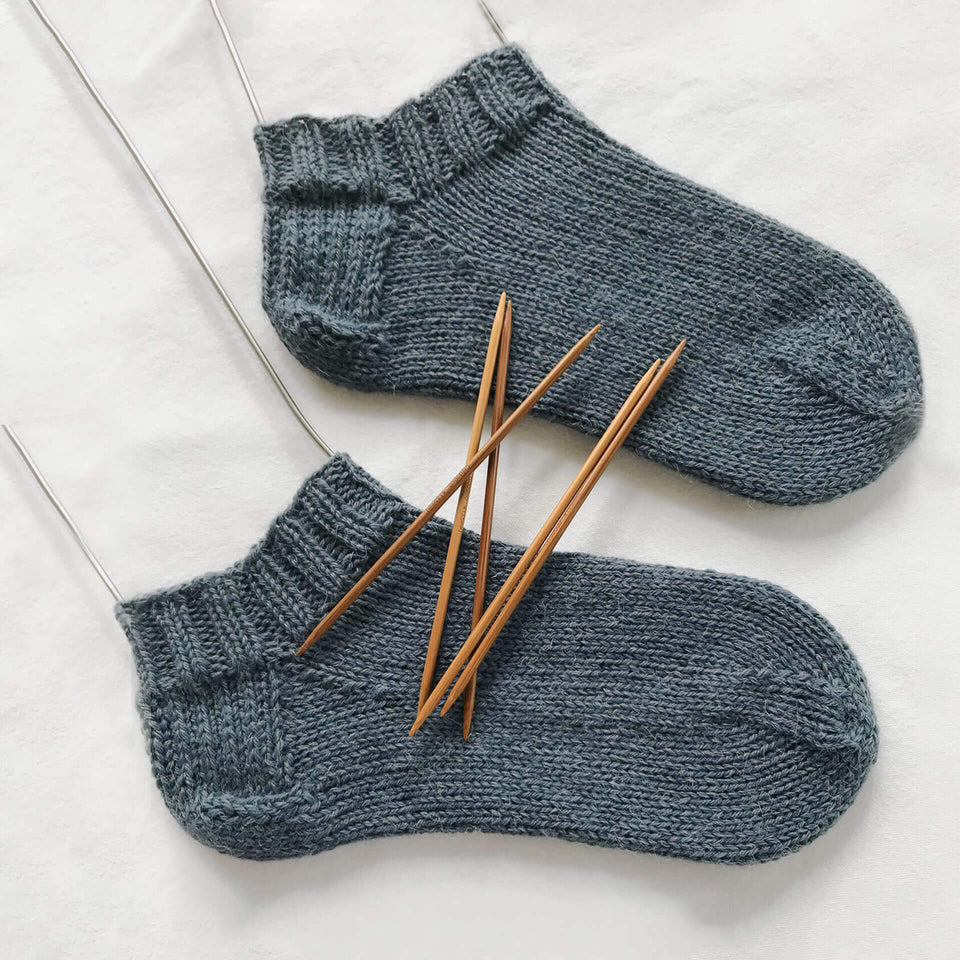 Knitting Masterclass — Learn to Knit Socks That Fit
by Max and Herb
Sock knitting de-mystified! If you have always wanted to learn to knit socks or have tried and ended up with a sock that didn't fit, then this class is for you! Understand the ins and outs of socks making, and create the perfect pair of socks every time! Socks are a perennially hot topic in the knitting world, you can never have too many of them, and they make the most appreciated gift. Plus, they are a great portable project! 
However, socks can be intimidating for knitters. The sock patterns can be intricate, and the sock heel is a tricky business to navigate. Join us in this masterclass to learn everything you need to know about sock-knitting! During the three sessions, we will detail all the steps to make sock knitting easy and enjoyable, and provide many tips about materials, construction, and finishing techniques. Years of experience in one masterclass! 
Once one sock is made a sockaholic is in the making! It is seriously addicting!
SKILLS COVERED — 
Many aspects of sock knitting will be covered, including:
- Materials: Choosing the perfect material for your project is made easy with plenty of helpful advice on the qualities of different yarns, including what feels best, what holds its shape, and what really lasts. Learn about yarn amounts, the best needles to select, and different notions.
- Fit and comfort: Taking foot measurement, measuring gauge correctly, choosing what size to make. What heel style to choose for the best fit.
- Socks basics: Toe up vs. cuff-down sock making. Tips for arranging stitches on needles. Cuff, leg, and toe. You will receive expert advice on working the heel flap, short rows, and shaping and finishing the toe. 
And all the tips to avoid the dreaded second sock syndrome!
Next, you will be all set to use your newly acquired skills to turn out hand-knit socks (that actually fit!) for everyone in your life!
Important: All aspects will be covered while making your very own fitted sock! The socks made in this workshop are sized for the average adult foot. In the class, you will learn how to measure the intended foot for the perfect fit. This is where you will customize the length of the sock, and learn which heel is best to knit for what shape foot.
EXPERIENCE REQUIRED — 
Students should know how to knit and purl, how to do simple decreases, and have worked with double-pointed needles. If you have knit the top of a hat, you are good to go! If you are not comfortable working with double-pointed needles, check out our brand new Make A Hat Workshop.
MATERIALS INCLUDED — 
Sandnes Garn Klompelompe SPØT
Bamboo needles
Tapestry needle
Stitch Markers
PLUS a step-by-step written pattern for our Sharon's DK Socks
(you'll be able to take all these materials home after class — YAY!)
WHEN —
April 9th, 16th, and 23rd at 9:30 am

ABOUT THE CLASS —
This class takes three sessions. The first and third sessions are 1.5 hours, the second session is 2 hours. 
LOCATION —
Max and Herb Store, 5502 Peachtree Rd, Suite 150, Chamblee, GA, 30341 
CONTACT —
If you have questions, call us at (470) 246-5532 during store hours or email us at hello@maxandherb.com
Due to Covid-19, your seat will be at an appropriate distance from the other participants. Unfortunately, due to COVID, we are not offering any food during the workshop (what a bummer!). To create a safe and inclusive learning space, we're asking students and teaching artists to show proof of vaccination or a negative COVID test (can be at home, rapid, or PCR) within 2 days of their in-person class. We want to assure you, we are frequently disinfecting high contact surfaces and have hand sanitizers for customers to use. We are doing everything in our power to keep you safe. 
If you find you have to cancel your class and it is more than 7 days before the first session, you will receive a full refund. If it is 7 to 2 days (48 hours) before the first session, you can either receive a store credit or register for another class. If it is within 48 hours before the first session, you will not be able to receive a refund or a store credit. Unfortunately, if you miss a class, there are no available make up classes.