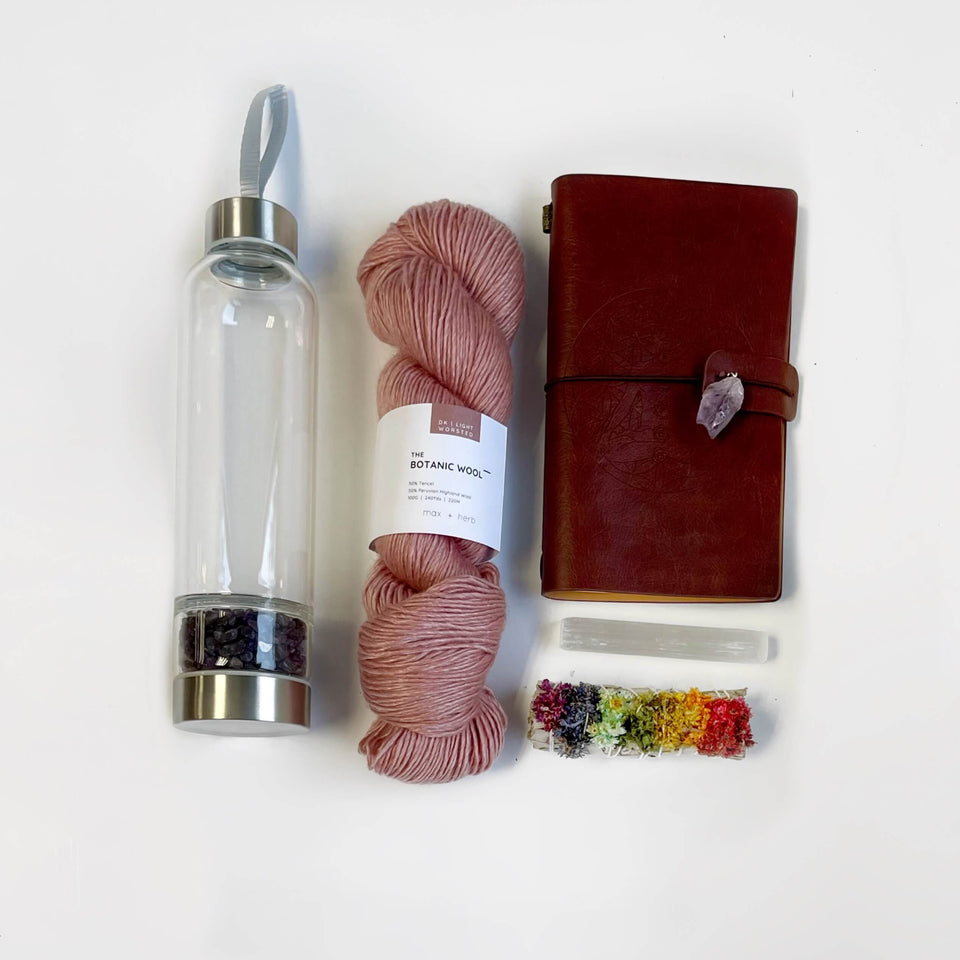 Maker Intention Ritual Kit —
by Max and Herb
The Maker Intention Ritual Kit has everything you need to connect with your deepest you, protect your peace, energy and space, and feed your mind with thoughts of a positive future.
Prioritize your well being with this amazing kit:
Allow the White Flower Sage Smudge Stick clean the air and fill your sacred space with positivity, protection, and calming energies. 
Install a deep peace and calm over the mind and body with the fine vibrations of the Selenite Wand.
Decode your thoughts, foster creativity, and live a more intentional mind by keeping a journal. A simple and yet very helpful ritual that offers numerous benefits backed by science. 

Experience the calmness, energy, and healing power of the amethyst stone by drinking from this crystal-infused water.  
Feel the fiber, your hands moving, settling into the rhythm, and listen to your own breath, as you focus on the craft using The Botanic wool. One hank projects like these mittens is all it takes.  
DETAILS

IMPORTANT INFO

IMPORTANT INFO — The statements on this site have not been approved by the Food and Drug Administration. Any information that may be found anywhere on this site is not presented as a substitute, nor intended to be a substitute for medical advice, treatment or diagnosis. We feel that crystals can complement other therapies and support energetic well being. There alleged properties are gathered from writings, books, folklore and many other sources. They are dependent upon the attitude and beliefs of the individual. Crystals should not be used as a replacement for medical treatment.