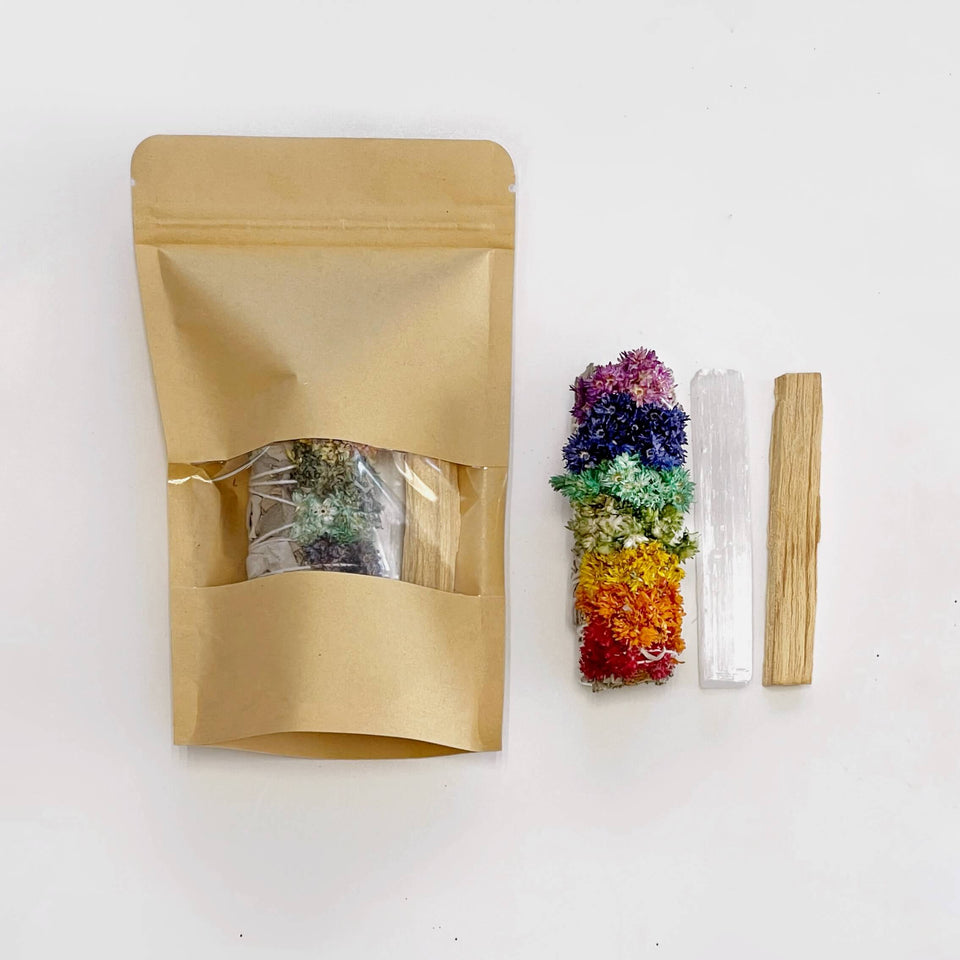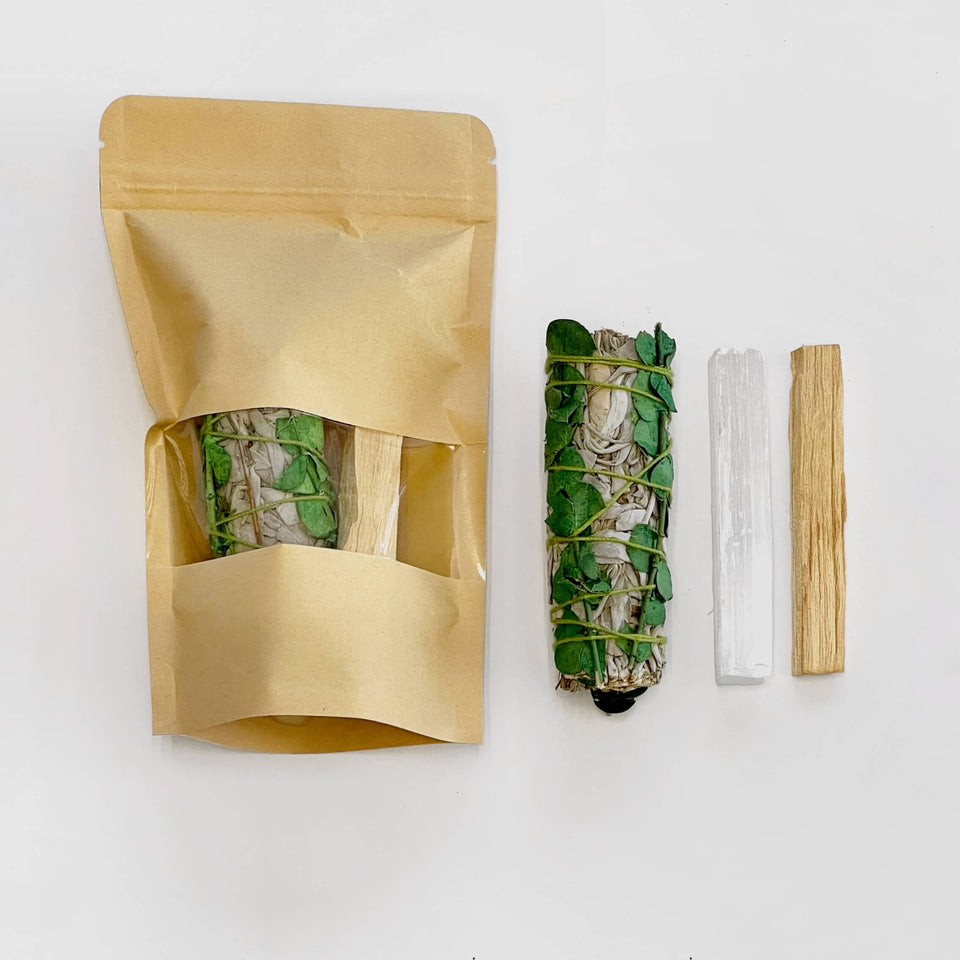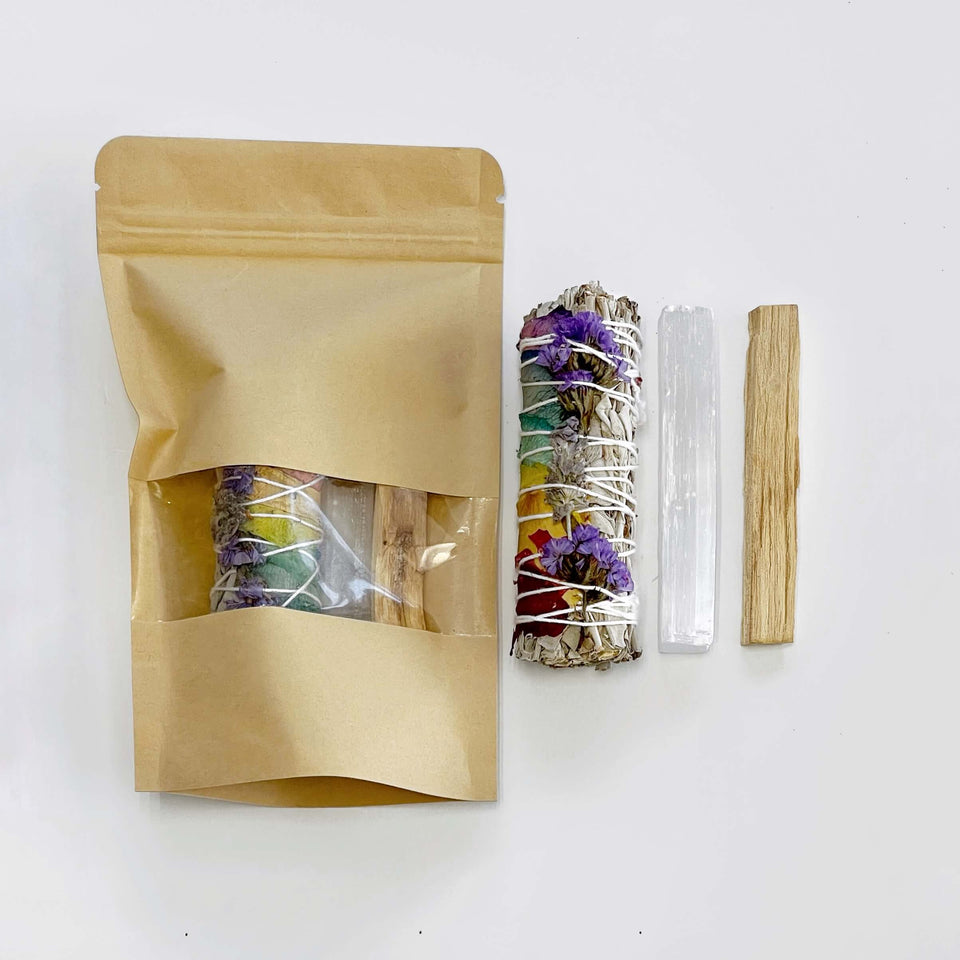 Energy Clearing Kit — White Sage Smudge Stick + Palo Santo + Selenite bundle
by Max and Herb
The Energy Clearing Kit has everything you need to clear the energy and bring healing into any space. Allow White Sage, Palo Santo, and the Selenite Crystal Wand to fill your sacred space with positivity, protection, and calming energies. 


The Bundle includes:
Palo Santo — Deeply aromatic wood used to purify and combat negative energy. A sacred remedy for purifying and getting rid of negative thoughts and misfortune. 


Selenite — The ultimate crystal for cleansing and clearing energies and auras while instilling a deep peace and calm over the mind and body. It's fine vibration brings clarity, and constantly purifying the energy in the space.
Sage Smudge Stick — this aromatic plant herb cleanses the air and helps rid the space of negative energy so you can begin to attract positivity, peace, love and protection into your home.
DETAILS

IMPORTANT INFO

WHY WE LOVE IT  —  Healing and energizing properties,  natural, eco-friendly,  cleanse power, greater sense of protection and clarity.
KIT INCLUDES — One Selenite Wand (4" - 10 cm length)
One Palo Santo (4" - 10cm length) 
One White Sage Smudge Stick of your choice. 
Please expect slight variations from item to item as this is a natural product. Items shown are for illustration as these are natural please expect some variance from item to item. Item supplied will be very similar but not identical.
IMPORTANT INFO — The statements on this site have not been approved by the Food and Drug Administration. Any information that may be found anywhere on this site is not presented as a substitute, nor intended to be a substitute for medical advice, treatment or diagnosis. We feel that crystals can complement other therapies and support energetic well being. There alleged properties are gathered from writings, books, folklore and many other sources. They are dependent upon the attitude and beliefs of the individual. Crystals should not be used as a replacement for medical treatment.